What's happening with A Teaching Artist's Companion: How to Define and Develop Your Practice?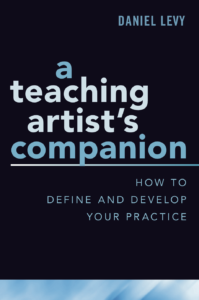 Big gratitude to the sixty or so beautiful people who attended the book release party for A Teaching Artist's Companion: How to Define and Develop Your Practice (Oxford University Press) at 92Y. This event came about thanks to host Ava Lehrer (Director, 92Y Center for Arts Learning & Leadership) and the artists of the CALL staff (Sule, Jonathan, Jennifer, Maya and Maxwell) who kindly set us up with drinks and nosh and a convivial vibe. The live music included first-time-ever performances of my most recent songs CUT WHILE SHAVING (text: Charles Bukowski) and A 32-BAR SONG, and two songs from my Greenwich Village singer-songwriter days with the band DREAMS OF FLYING, titled BAGGAGE and A SLEEPING DOG. The individually and collectively wonderful Dominique Gagne (flute), Mark Cupkovic (cello), Diedre Struck (piano goddess), Jesse Greenberg (percussion) and Dana Scofidio (guitar) joined me onstage in the 92Y Art Gallery. It was typical New York gig: never having met in one room before, we rehearsed for 40 minutes just before the event, and suddenly we were a band. These musicians make my fronting the band so easy. Everybody soloed at one point or another, the grooves were solid, the audience right with us… SO much fun.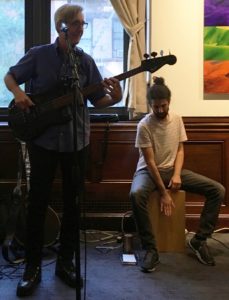 To watch a video of Ava's introducing me and the book, click here.
And who won the Get-On-My-Newsletter-List raffle? That'd be ace violist / composer Jessica Meyer, shown here with swag at the ready, including some germ-killing home-made hand care goo, specially formulated for Teaching Artists. If you made it to the event, this secret formula was shared.
Thanks Mom! Irene Levy-Roll was in charge of the sales table. Were any arms twisted? I don't think so… but we did sell and sign a lot of books.
---
Folks who took a book home with them found these kind words on the back cover:
Daniel Levy is just the companion a teaching artist would want for a career-long journey of inquiry and improvement. His guidance is excellent, and this book takes our field up a notch toward better understanding and better practice. In the small library of books that advance the filed, this book becomes an essential contribution. – Eric Booth, author of The Music Teaching Artist's Bible
Daniel Levy has taken his deep experience as a professional teaching artist and poured it into the exemplary resource for both artists who want to find their footing in education and master teaching artists who want to re-examine their teaching practice in fresh ways. It's thrilling that a book of this caliber will help advance professionalism in the field of teaching artistry! – Courtney J. Boddie, Director of Education at the New Victory Theater and host of Teaching Artistry, a podcast
---
So what's the buzz on the book in this brand new year?
The Teaching Artist's Guild (TAG), a national community for TAs of all stripes, has listed my book alongside Augusto Boal, Viola Spolin, and Jaffe Barnikis and Cox (I'm in damn good company) as a recommended resource. A full-on book review is planned for the Spring edition of the TAG QUARTERLY Magazine.  The scholarly Teaching Artists Journal will also review this book this spring… my article THE CONTAINER: Designing A Creative Atelier at Sing Sing Correctional Facility was published by them a couple of years ago.   Justin Daniel of the New York City Arts In Education Roundtable will be blogging about the book soon – I have not seen his blog post yet, but his pre-blog follow-up questions were great – I felt honored by his close and careful reading. Before summer, I'll be collaborating with the newly revamped up and coming ATA (Association of Teaching Artists) on a webinar (or webinar series if I can get all my ducks in a row) based on the book for their new Digital Professional Development Series. I'll be presenting Capstone workshops for music, dance, visual arts and theater seniors at (my alma mater) Miami University's College of Creative Arts in February, as well as Teaching Artist 101 workshops based on the book at the Self-Employment in the Arts Conference at Columbia College in Chicago. The State of South Carolina has invited me to facilitate their new state-wide certification program for Teaching Artists at the Peace Center in Greenville in March, thanks to the kind recommendation of VP of Community Impact Larisa Gelman. I'll admit that I'm looking forward to all the attention, and the chance to be in touch with and work with so many dedicated and generous artist-educators. And particularly looking forward to being a guest on Courtney J. Boddie's TEACHING ARTISTRY podcast.
---
Some AMAZON reviews:
Incredibly useful and reader-friendly book!  
I'm an artist/educator, a librettist, director, and college professor who has been working with students for many years. I just finished reading this wonderful book, which happily confirms a lot of what I already do as an educator, but also offers me a very simple and elegant way to continue to analyze and refine my teaching practice. It's extremely well written and user-friendly. Truly like having a close companion to turn to for advice. I think it's going to become a key player in the field.
5.0 out of 5 stars Great resource for Teaching Artists at all levels! A Teaching Artist's Companion provides tools for developing every aspect of professional practice. Beginning by looking inward at a teaching artist's own philosophies and strengths, then connecting those views to lesson design, and finally looking outward to educational partnerships. The book gives practical and thorough answers to topics that teaching artists frequently struggle with – including the delicate balances of classroom management and how to tackle curriculum design. I especially valued the sample lessons and great discussion prompts. I'd recommend this book to teaching artists at all levels of experience!
---
What's the story behind the book?
I started the book in 2006 – yes, that long ago. It was just a vague idea at the time:
how can teaching artists be of benefit to one another, improve our craft, get better sooner?
Executive Editor for Music (and Humanities) Suzanne Ryan at Oxford University Press showed some interest in an early and very gnarly draft, but also offered a strong critique that sent me back to the drawing board. I changed the tone of the text, read Steven Pinker's cogent (and very funny) book
The Sense of Style
and worked at transforming myself into an intelligible writer, collecting materials and writing new sections. For several years there was still no organizing idea to make the book have the kind of shape and flow I was imagining. Then about 6 years ago the
View Design Respond
framework came into focus. I finished and offered a draft to OUP, the manuscript was accepted and went through THREE ROUNDS of peer review… I may tell this story in more detail in a different post. But for now: the peer review process was amazing. Every comment helped me see what was there and what was missing, and made the book better. I wasn't shy about taking good advice. Every draft got a little clearer, more engaging – or so I hope and trust! You'll let me know, please, when you read the book?
---
There is a saying:
films are never finished – they're just released
. That's how I feel about this book. I'll keep rewriting it in my head forever, but for now, it is
released
– and that feels so good.
Available on
Amazon
, and at
Oxford University Press
.