A Teaching Artist's Companion book release party at 92Y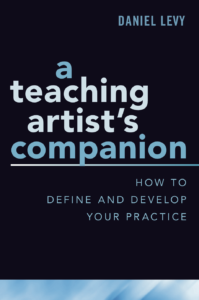 I could not be happier to announce the book release party for A Teaching Artist's Companion: How to Define and Develop Your Practice (Oxford University Press) from 4-6 PM Tuesday, September 17 at 92Y (92nd/Lexington). Drinks, nosh and hang at 4, live music starts at 5, including first-time-ever performances of my most recent songs CUT WHILE SHAVING (text: Charles Bukowski) and A 32-BAR SONG. The individually and collectively wonderful Dominique Gagne (flute), Mark Cupkovic (cello), Diedre Struck (piano) and Dana Scofidio (guitar) will join me onstage in the 92Y Art Gallery. Save the date, and please come celebrate with us!
I started the book in 2006 – yes, that long ago. It was just a vague idea at the time: how can teaching artists be of benefit to one another, improve our craft, get better sooner? Suzanne Ryan at Oxford University Press showed some interest in an early and very gnarly draft, but also offered a strong critique that sent me back to the drawing board. I changed the tone of the text, read Steven Pinker's cogent (and very funny) book The Sense of Style and worked at transforming myself into an intelligible writer, collecting materials and writing new sections. For several years there was still no organizing idea to make the book have the kind of shape and flow I was imagining. Then about 6 years ago the View Design Respond framework came into focus. I finished and offered a draft to OUP, the manuscript was accepted and went through THREE ROUNDS of peer review… I may tell this story in more detail in a different post. But for now: the peer review process was amazing. Every comment helped me see what was there and what was missing, and made the book better. I wasn't shy about taking good advice. Every draft got a little clearer, more engaging – or so I hope and trust! You'll let me know, please, when you read the book?
There is a saying: films are never finished – they're just released. That's how I feel about this book. I'll keep rewriting it in my head forever, but for now, it is released – and that feels so good.
Available on Amazon, and at Oxford University Press.