As we celebrate the master's 100th birthday on August 20th, I'm remembering the first afternoon we spent together.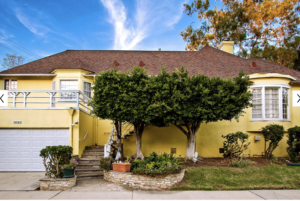 I'm sitting three feet away from Ray in his famous Cheviot Hills, Los Angeles study. We've just met. Ray Bradbury: twenty-seven novels, six hundred short stories, eight million copies in thirty-six languages – I am appropriately star-struck. He's polite, but seems guarded. I've brought a gift, a new book on an 18th-century polymath he adores, and he seems to love it. But from what I've been told, he does not love the music I have been composing. Ray prefers John Denver and Anne Murray. For three years, I've been composing an opera adapted from Ray's THE MARTIAN CHRONICLES. We've had our first staged reading at the Orlando Shakespeare Festival as part of its Harriet Lake Festival of New Plays, but a theater director friend of Ray's saw the first performance of our first draft and reported back to Ray that it was not quite the thing. The option is about to expire, and without Ray's approval of a new option we can't continue. This is a last-chance, one-shot deal: in the next few minutes, Ray will decide if my MARTIAN CHRONICLES opera (with librettist Elizabeth Margid) is a go, or dead in the water.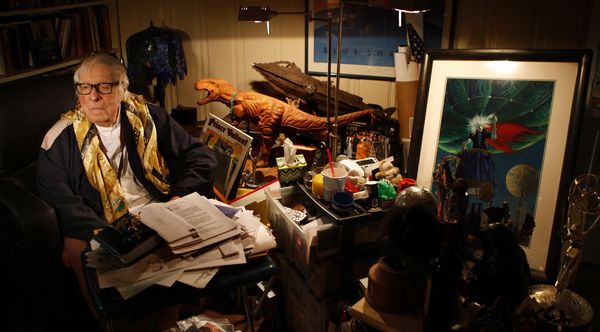 Ray and I settle in to his very personal, chock-a-block workspace.
DL: Ray, I'd like to sing you some of the music now – OK with you?
RB: Yes, all right.
DL: I have the instruments on the CD player, and I'll sing all the characters (press PLAY)… is that a good volume level for you?
RB: That's good.
Ray is, at 90, vital and completely present, but his hearing is not good – but we're more or less sharing the arm of his La-Z-boy chair, so we're close, almost face to face, and hopefully he'll hear both the words and the music at this distance.
DL: So… you know the NIGHT MEETING scene where Pops is running a gas station, and Tomas drives up in the pickup truck? (oops, you nervous idiot, of course he knows it, he wrote it) Um – of course you know it… that's where we'll start. The scene opens as Tomas drives up, and it sounds like this…
And leaning back a  bit – singing is louder than talking – while the instrumental track plays on the portable CD player, I sing the Tomas and Pops parts to POP'S SONG.
At the end of the song, Ray looks me in the eye and nods, but doesn't say anything.
DL: Would you like to hear another one?
---
Back in 2004, Elizabeth asked if I'd be interested in working on an adaptation with her, Bradbury's MARTIAN CHRONICLES – did I know it? It was a blazing August day, and we walked up Fort Washington Avenue together. Elizabeth had directed THE WILD DUCK with NYPA/Bulldog NYC in 1998 and Alice Eve Cohen's THIN WALLS at 78th Street Theater Lab, NYC in 2002 – I'd provided original scores for both pieces, and we worked easily and well together. Her approach to MARTIAN: a puppet theater adaptation of the central scenes from the episodic book, those that focus on our confronting the other. Ray has already approved what she's doing – he really likes her idea, and she has an option, the legal right to adapt the work. But she needs a librettist and a composer. I thought Elizabeth herself was the right person to write the libretto, and said YES to the composing. Full-length, through-composed (music is continuous) works take a lot of time and love and development; I had some idea of what I was saying YES to.
We began drafting and audio-recording songs and scenes. We agreed that the central episode of the book was NIGHT MEETING, where Tomas Gomez (human) and Muhe Ca (Martian) meet. The themes of the story was most clearly expressed in that chapter – we would make it central to the opera, musically and dramatically. Elizabeth had a wonderful way of using Bradbury's language, accessing the power and poetry it contained, while compressing the action and dialogue around it. As an example, here is Ray's text from the NIGHT MEETING story…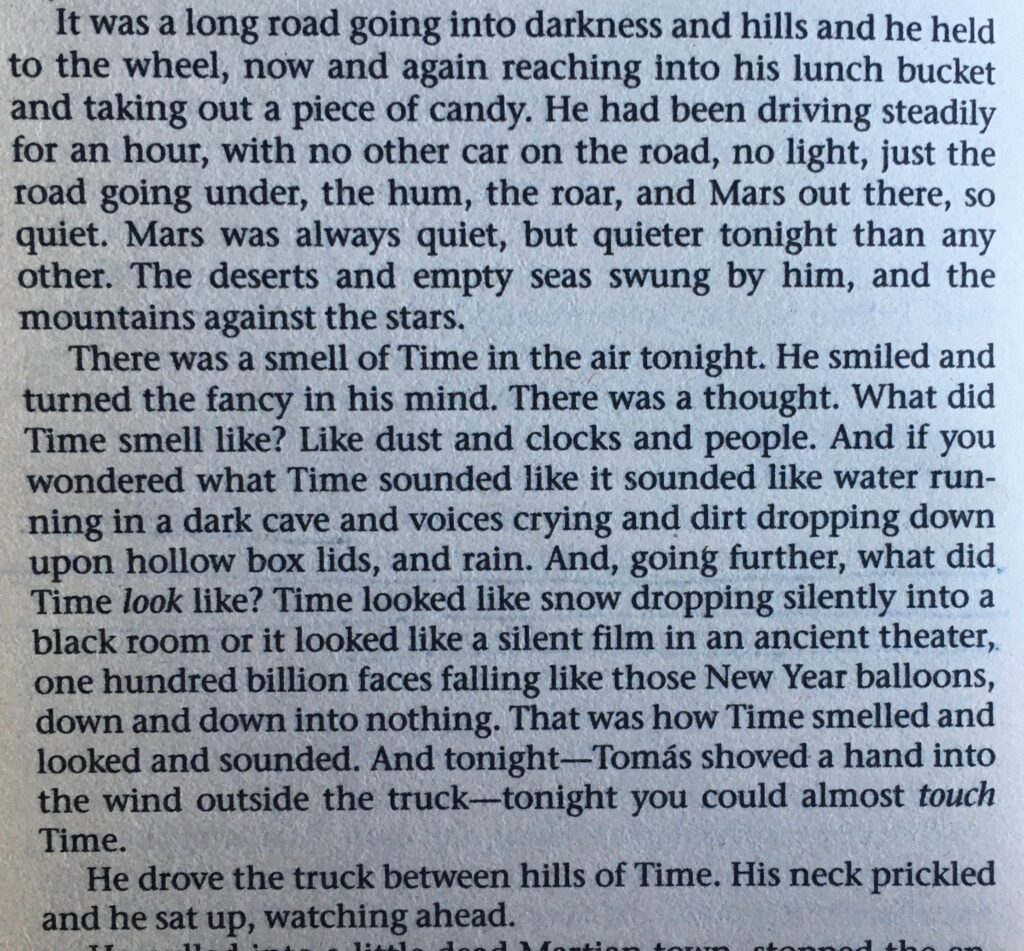 and here is our lyric/libretto of the same moment:
POP exits. TOMAS drives off. VIDEO: stars moving across the night sky. Ruins of Martian cities come into view, then disappear.
TOMAS
THERE'S A SMELL OF TIME IN THE AIR TONIGHT.
WHAT DOES TIME SMELL LIKE?
LIKE DUST AND CLOCKS AND PEOPLE.
AND WHAT DOES TIME SOUND LIKE?
LIKE WATER RUNNING IN A DARK CAVE.
AND VOICES CRYING
AND DIRT DROPPING DOWN ON HOLLOW BOX LIDS
AND RAIN.
AND WHAT DOES TIME LOOK LIKE?
LIKE SNOW
SILENT SNOW DROPPING IN A BLACK ROOM.
OR A SILENT FILM IN AN ANCIENT THEATRE.
ONE HUNDRED BILLION FACES
FALLING LIKE THOSE NEW YEAR'S EVE BALLOONS
DOWN AND INTO NOTHING.
THAT'S HOW TIME LOOKS,
THAT'S HOW TIME SMELLS
AND SOUNDS.
AND TONIGHT –
TONIGHT YOU CAN ALMOST TOUCH TIME.
The same scene as beautifully sung by Jared McNeill:
---
Bradbury was once described as a "Midwest surrealist" and is often labeled a science-fiction writer. He resisted that categorization, however:
First of all, I don't write science fiction. I've only done one science fiction book and that's Fahrenheit 451, based on reality. Science fiction is a depiction of the real. Fantasy is a depiction of the unreal. So Martian Chronicles is not science fiction, it's fantasy. It couldn't happen, you see? That's the reason it's going to be around a long time—because it's a Greek myth, and myths have staying power.
But would he like to hear another one? Ray says yes to hearing Tomas' TIME SONG. I explain how Elizabeth and I saw the story, the episodes we've cut or kept and why we've done so, what the work means to us, why we feel it speaks to this moment, i.e. how we see and define who is other than us, and what results from that. Ray also hears pieces from the YLLA sequence, and parts of THE EARTH MEN. The feeling in the room becomes more relaxed with each song, but I am not at all prepared for what happens next. Ray says "I love it. You know exactly what this book is about, and I want you to do whatever you want to do with it". He opens his arms, saying "You're my son!" (Ray has four daughters). He gave his blessing to the project, holding nothing back. We embraced for a moment, then spent the rest of the afternoon talking about his work, his process, how the opera might develop, writers and music and films we liked. He told me the story of being wined and dined by Lerner and Loewe in the 1960's; they wanted to adapt MARTIAN as a musical. Ray found them excellent company, but said no to their proposal – he'd also said no to an opera company in Germany – so Elizabeth and I were the first to be granted the rights to musicalize the piece.
Ray invited me to come back the next morning – not part of the original visit plan, but I had some time before the plane took off. When we met, he gave me a copy of THEY HAVE NOT SEEN THE STARS, his collected poems, which includes one of my all-time favorites, FAREWELL SUMMER (see the end of the blog post to read the poem).
There is more to the MARTIAN CHRONICLES story, but for today I just want to remember Ray, honor him, and express gratitude for the time and love and work he shared with me, with all of us.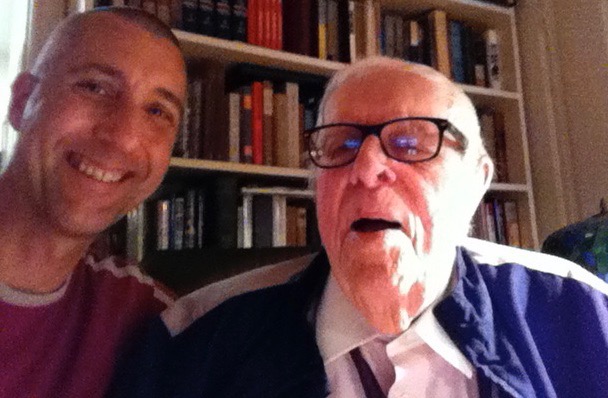 Readers, if you are a maker of things, I hope you've had the experience of sitting with an accomplished master artist, and being honored by their taking your work seriously, engaging with you, supporting and encouraging. Maybe you are that master, and have shown that kindness to a younger artist. Ray was a profoundly poetic soul. The generosity and warmth he showed me changed me for the better. I don't have his gifts, but his incredible discipline, ongoing auto-didacticism, heart and wisdom are qualities I try to cultivate. I'm in his debt. Perhaps if you've read or seen and loved his work, you are too.
https://daniellevymusic.com/martian-chronicles/